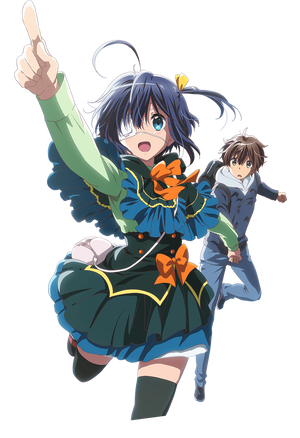 Rikka Takanashi is a teenage girl who possesses the strongest ocular power known to man: the Tyrant's Eye. She's currently locked in a fierce war with a shadowy organization, and the fate of the world may hang in the balance with each passing battle... or at least this is what she believes. In actuality, Rikka is merely a normal high school girl afflicted with chuunibyou syndrome, a "disease" that makes one prone to delusional flights of fancy.

Meanwhile former chuunibyou sufferer Yuuta Togashi is enrolled at the same school, looking to put his embarrassing junior high exploits behind him. However, when Rikka discovers his past life as the "Dark Flame Master", she uses this to her advantage to include him in all of her wacky schemes! With Rikka's zany behavior dragging him further and further from normalcy, Yuuta must try to pull her back into the real world – or risk getting sucked into hers!
Community content is available under
CC-BY-SA
unless otherwise noted.